Welcome to Snow Avenue Greenhouse!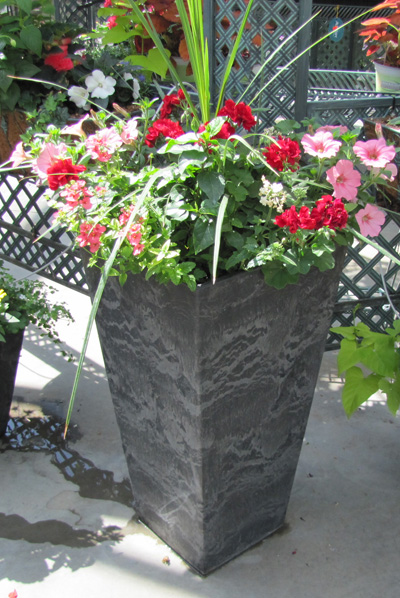 If this is your first visit to the greenhouse web site or you haven't been out to the greenhouse, let us tell you what we're all about.. We grow annuals and perennials seasonally. We spend our fall season searching for flowers, our winter season growing them, and our spring and summers selling them. So we are open for retail from mid April to mid August and closed to the public the rest of the year.
We love the many flower varieties that are available today and find if fun and exciting to mix and match them in container arrangements and hanging baskets. We search for new and exciting plants, grow them, and then build bold and unique hanging baskets, patio and deck planters, window boxes, and lots of custom planted garden containers. Many of which we make only 2 of each design so you won't find hundreds of the same thing here. We do a lot of custom planters for shade using shade loving plants that thrive in low light conditions.
We encourage our customers to bring in their own planters and we will help you fill them with flowers that will thrive in the location that you want to keep it. We grow thousands of 4" and 6" annuals, 36ct flats of annuals, geraniums, begonias, petunia baskets, and perennials in quarts, 1, 2, and 3 gal containers. We're sure we can fill all your flower needs. We also handle fertilizer, potting soil, pots, and garden Art.
So if you're looking for something a little different in container gardening or just need a few geraniums come to Snow Avenue Greenhouse. Our staff of experienced gardeners would love to help you grow successfully.